Race Report: Australian Nationals 1/10 Offroad – Sturdy and Selvaggi win
Hi guys, race report from the Australian 1/10 nats held over the weekend.  Unfortunately only the 2wd portion was completed as 4wd/trucks were washed out.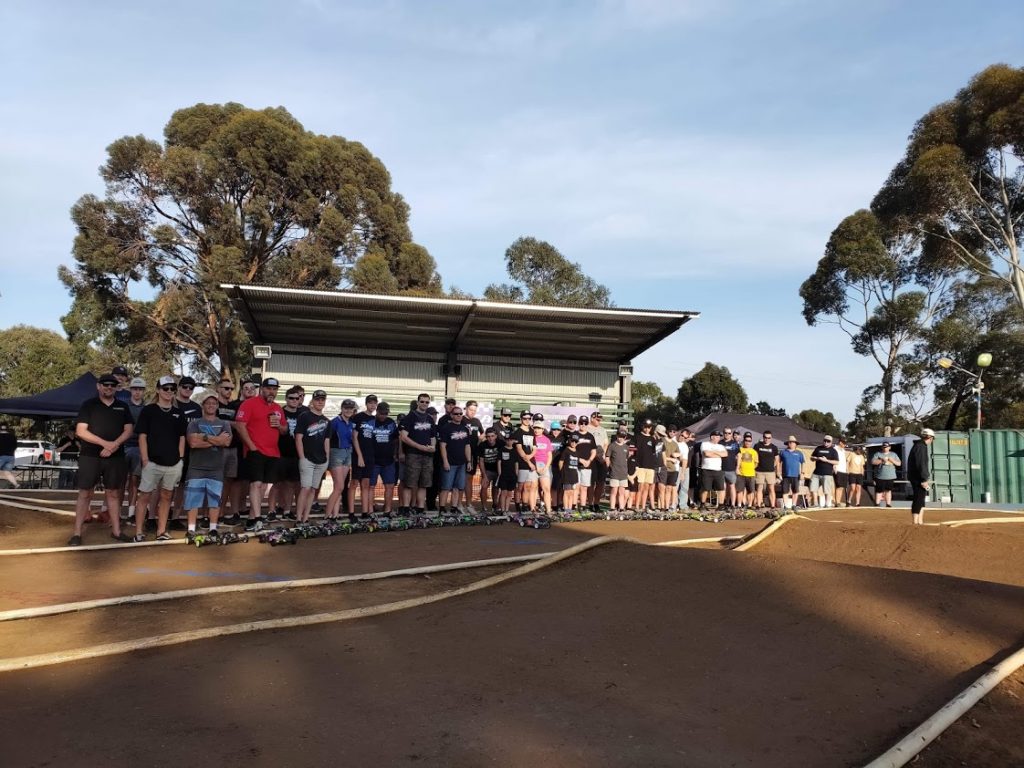 1/10 Jay Leno's Garage Offroad Australian Nationals
30 Oct-2 Nov 2019
Keilor, Melbourne, Australia  
Chris Sturdy (2wd Modified) and Andrew Selvaggi (2wd 17.5) have taken out the Australian nationals held at the Keilor club in Melbourne.  Around 230 entries were received from all around the country for the event, and the club prepared a brand new track layout which was fast and challenging. 
Mother nature made life difficult with very hot and windy conditions during practice and 2wd day, and unfortunately heavy rain which forced the cancellation of 4wd and truck classes.
2wd Modified
Chris Sturdy was the defending champ and hot favourite for the title, however in qualifying he was pushed hard by Lachlan Donnelly who took Q3 and was leading much of Q4.  Chris was able to take TQ from Lachlan, Jordan Isergin and Lachlan Munday, with Ari Bakla 5th. The finals were epic with strong winds and high temperature making the racing even more intense.  A1 saw Sturdy take an early lead which he held to the end with Lachlan Munday moving up to second and Jordan Isergin 3rd.  In A2 an early crash from Chris allowed Lachlan Donnelly to take the lead with Ari Bakla running 2nd, a position they held to the end with Jordan Isergin taking 3rd after a last lap battle with Munday.  Going into A3, 5 drivers could mathematically win and the race was a classic with 4 drivers (Donnelly, Isergin, Munday and Sturdy) all leading at various times.  At the final tone it was Sturdy taking the win from Munday, Donnelly 3rd and Bakla taking 4th overall from a fast but unlucky Isergin.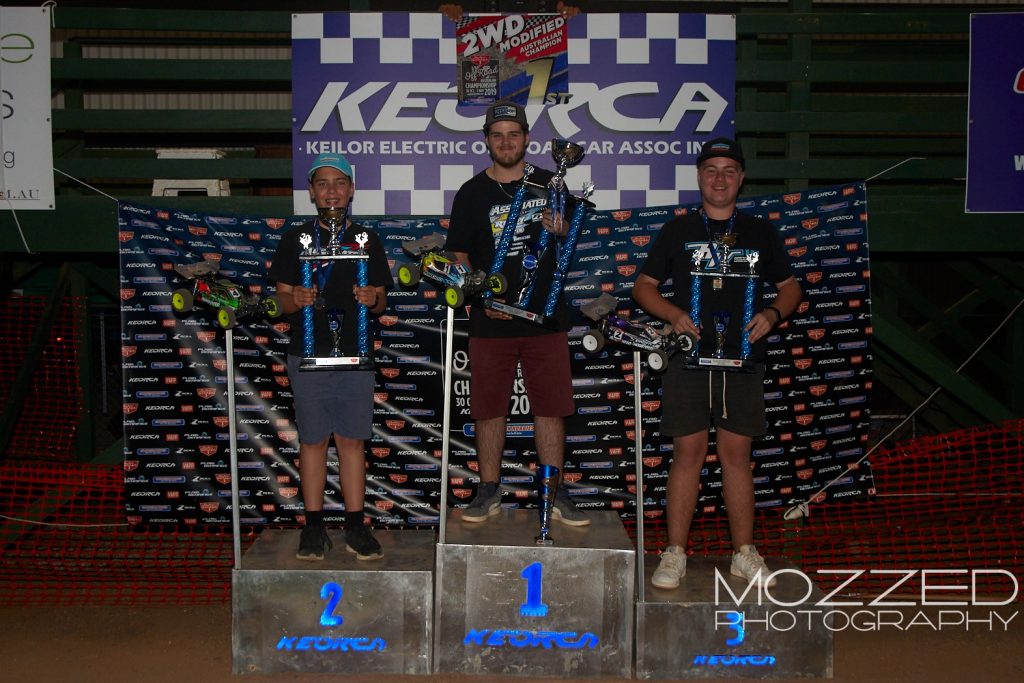 2WD Modified Podium Results
1st: Chris Sturdy (AE / Reedy / JConcepts)
2nd: Lachlan Munday (AE / Reedy / JConcepts)
3rd: Lachlan Donnelly (AE / Hobbywing / JConcepts)
This was Sturdy's 3rd 2wd Mod Nats win in a row, and the future of Australian racing is looking bright with 4 juniors in the A final (Lachlan Munday 13, Lachlan Donnelly 15, Jordan Isergin 15 and Matthew Couper 15).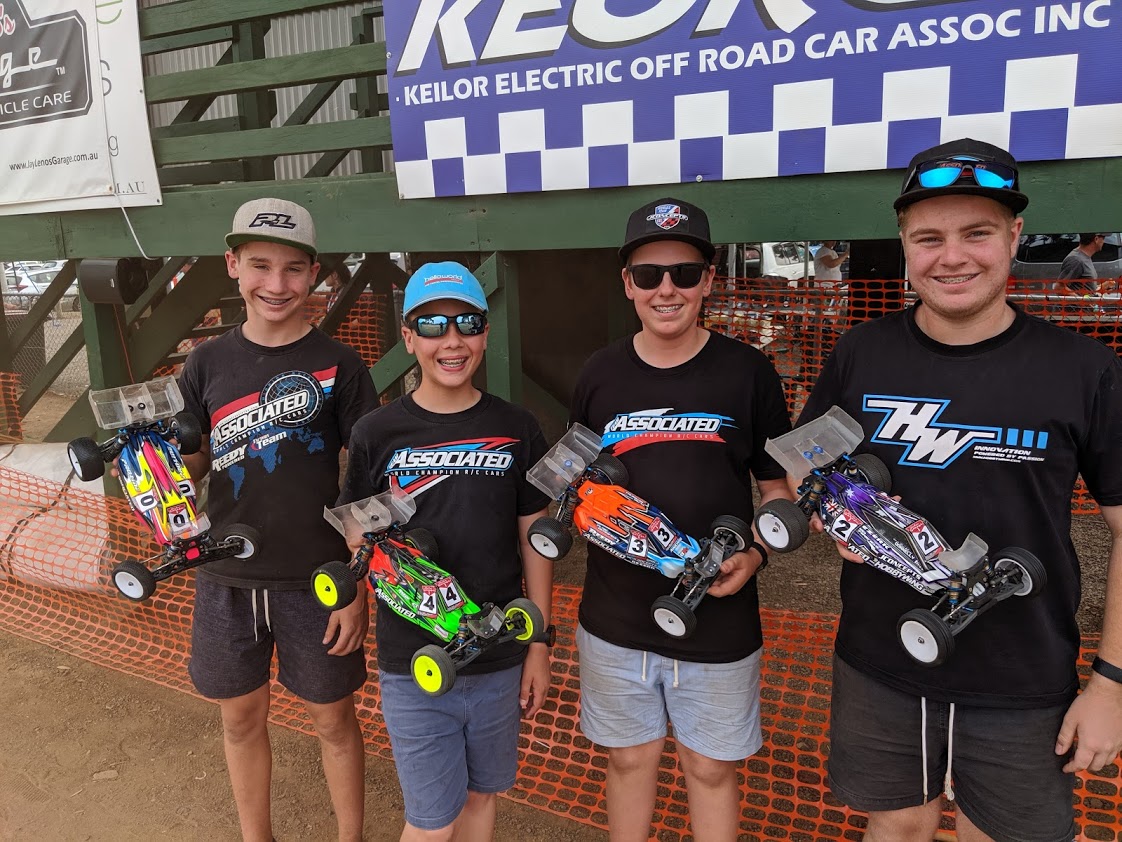 2wd 17.5
Favourites for this class included 2018 Champ Leigh Cheeseman, 2018 TQ Ben Howard and West Aussie champ Brayden Miller with recent convert to 17.5 Andrew Selvaggi and unknown quantity. Q1 saw Howard take first blood from Miller, before Selvaggi got into a rythm and took Q2,3 and 4 to seal TQ, Howard and Miller lining up behind him on the grid with Queenslands Matt Parsey 4th and Cheeseman 5th. In A1 an early bobble by Selvaggi let Parsey through, Selvaggi retaking the lead at around 3 minutes and stretching out to win from Cheeseman, Ben Cribbin and Scott Giles. In A2 Selvaggi had a bad start and this allowed Ben Howard into the lead until an unfortunate DNF promoted the Miller brothers to the lead, Brody taking the win from Brayden and Cheeseman forcing the result to A3. This time Selvaggi took a tone to tone win to seal his first national title, Miller 2nd overall and Cheeseman finishing 3rd overall, Brodi Miller 4th and Ben Howard 5th.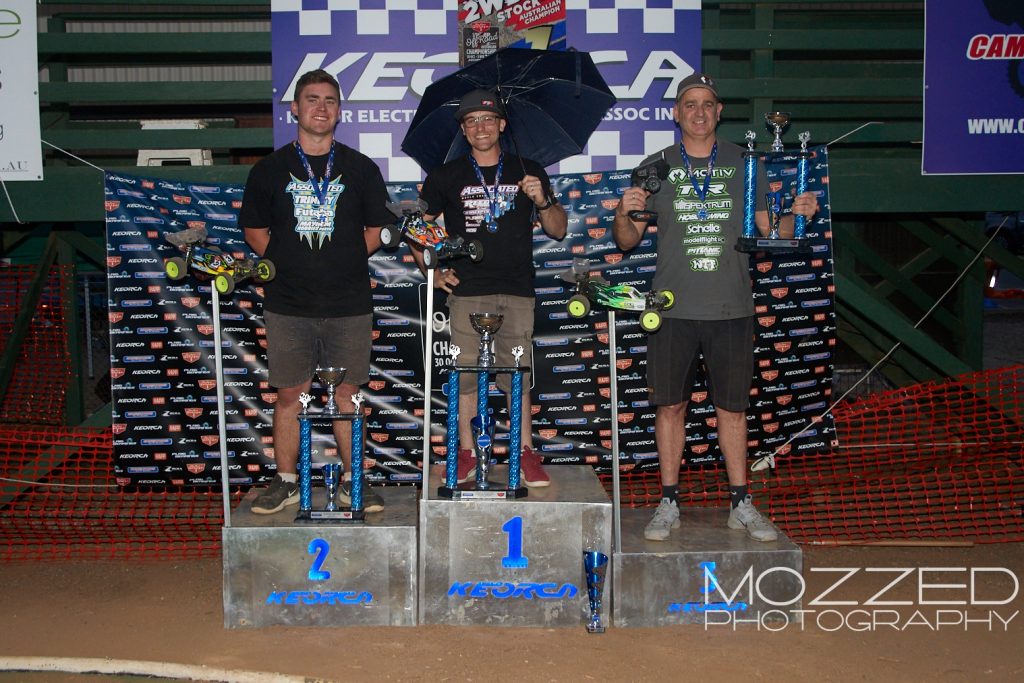 2WD 17.5 Podium Results
1st:  Andrew Selvaggi (AE / Reedy / JConcepts)
2nd: Brayden Miller (AE / Trinity)
3rd: Leigh Cheeseman (TLR / Motiv / Hobbywing)
Thanks to everyone from the Keilor club for their time and effort putting on the event and all the racers who traveled from around Australia to compete! 

Photos: Mozzed Photgraphy
Please follow and like us: